The Community Game Development Toolkit
The Community Game Development Toolkit is a set of tools that make it easy and fun for students, artists, researchers and community members to create their own visually rich, interactive 3D environments and story-based games without the use of coding or other specialized game-design skills. Building on the popular 3D game design engine Unity, the toolkit provides intuitive tools for diverse communities to represent their own traditions, rituals and heritages through interactive, visual storytelling. Projects can be built for desktop, mobile and VR applications.
Accessible Visual Storytelling
In order to quickly create vibrant, visually rich scenes without the use of 3D modelling, the toolkit draws on creators' own photos, collages, drawings and sound recordings to create objects and textures in 3D space. This technique allows creators to bring their own visual references and sensibility into the game environment and makes creative experimentation rewarding and fun for creators who may have no prior experience in 3D modelling or even visual art.
Using paintings, drawings and photos as objects in 3D space: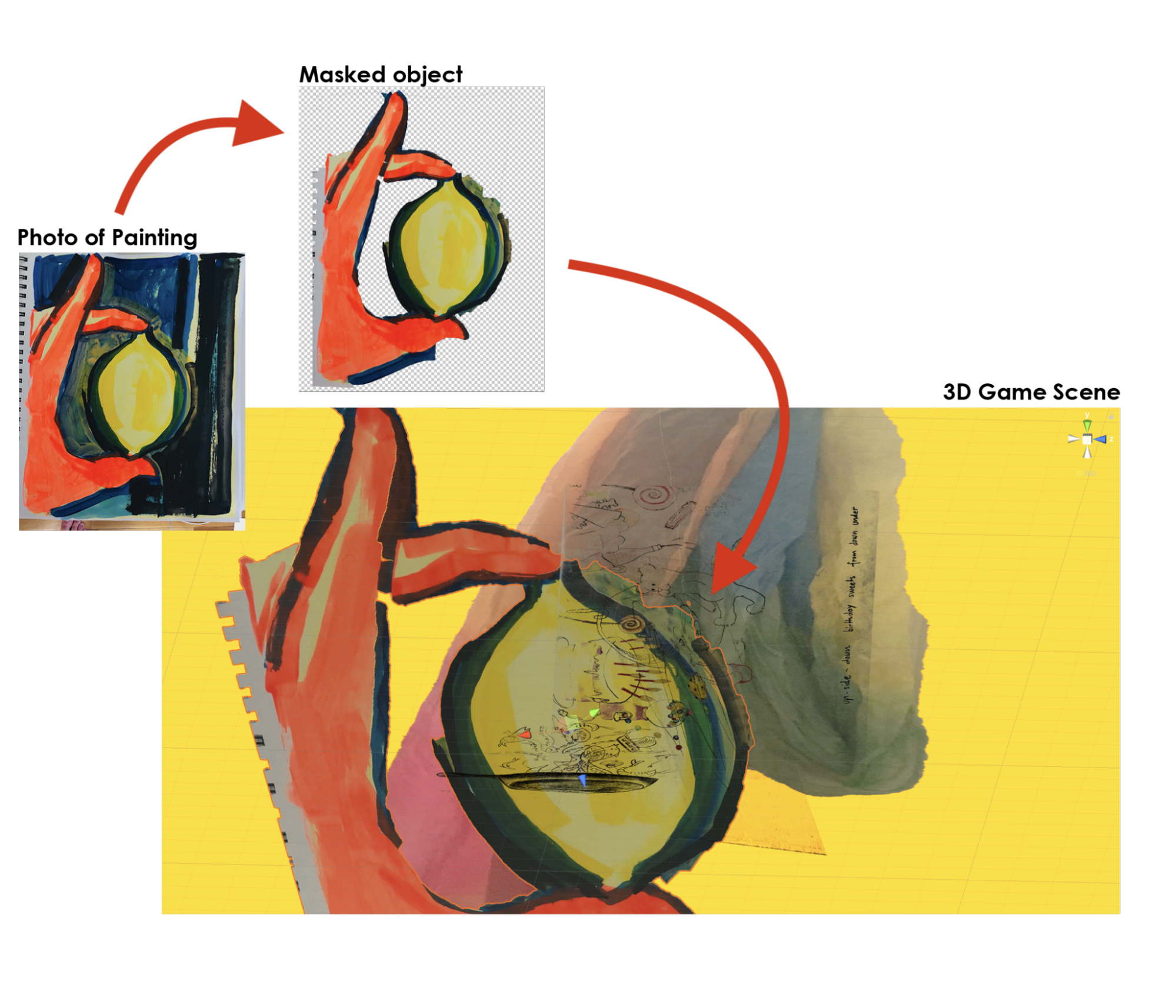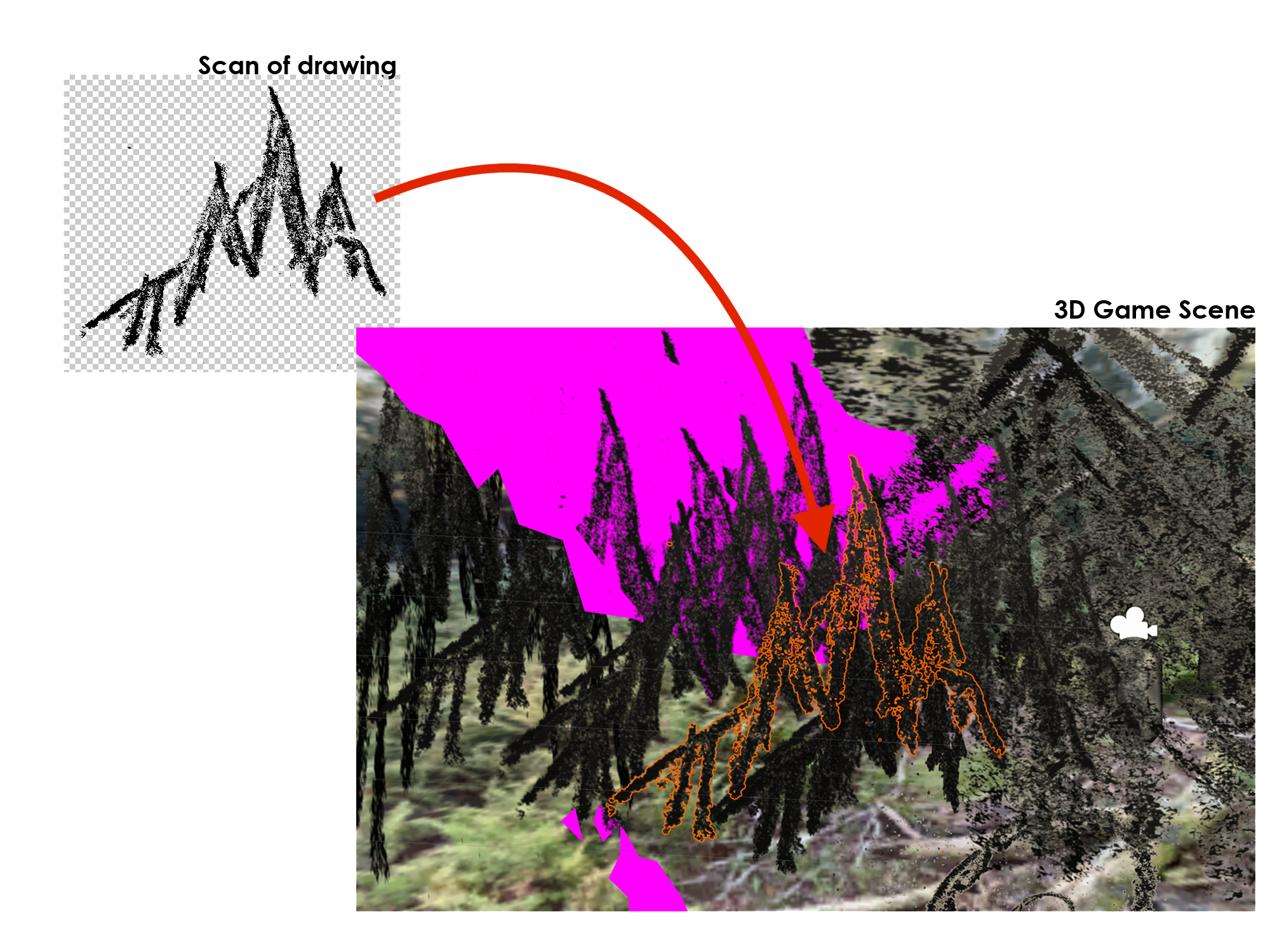 Using a scanned drawing as a texture in 3D space: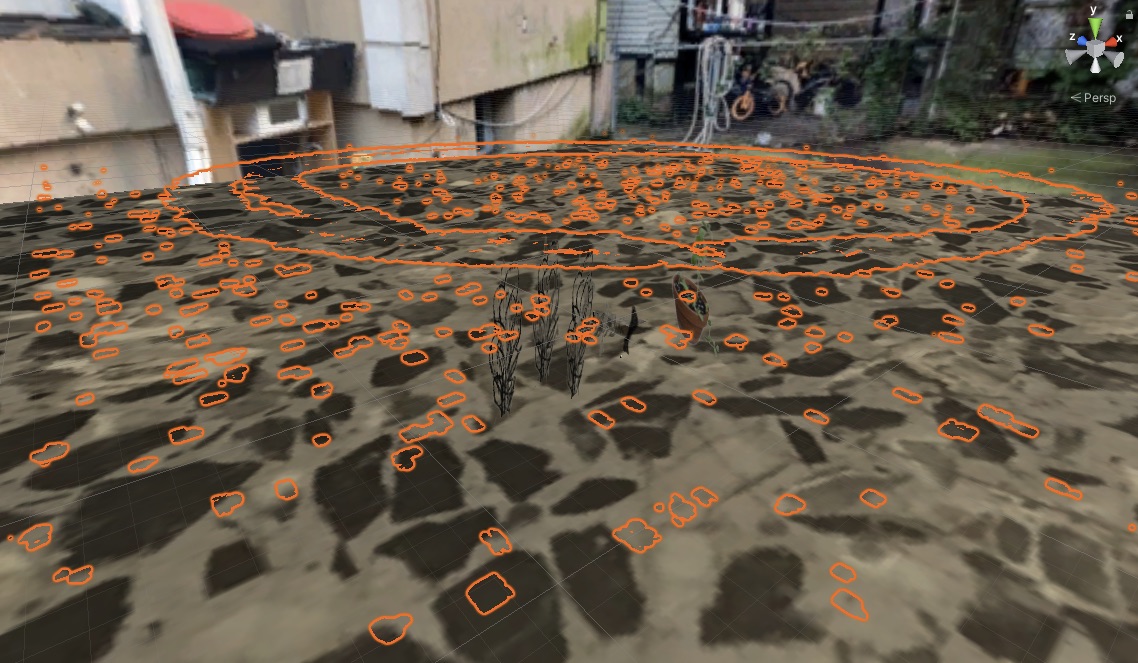 Drag-and Drop/No-code interactivity
The toolkit provides a set of game components that make it easy to add many types of interactivity to games without the use of code. Creators can add interactive text to objects, for example, by dragging a game component to an object and typing the desired lines of text. Other functions include interactive, autonomous characters, mechanisms for moving from one scene to another, interactive objects such as doors or elevators, collecting inventory, and more. These readymade game components empower creators with no prior technical experience to create fully interactive and engaging 3D visual narratives and games.
Drag-and-drop interaction design (here demonstrating how the player can move between scenes):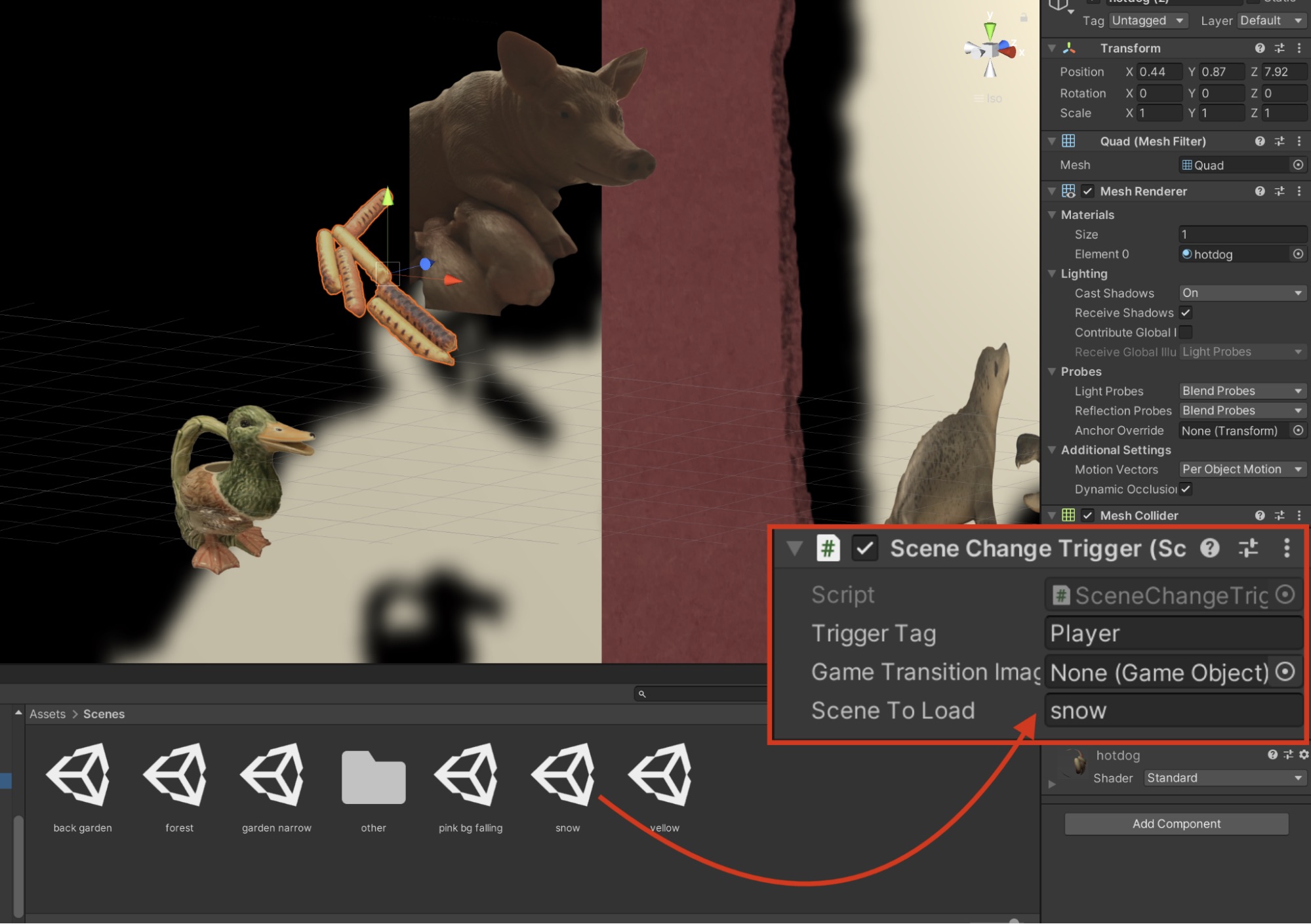 Simple input fields for generating text interaction: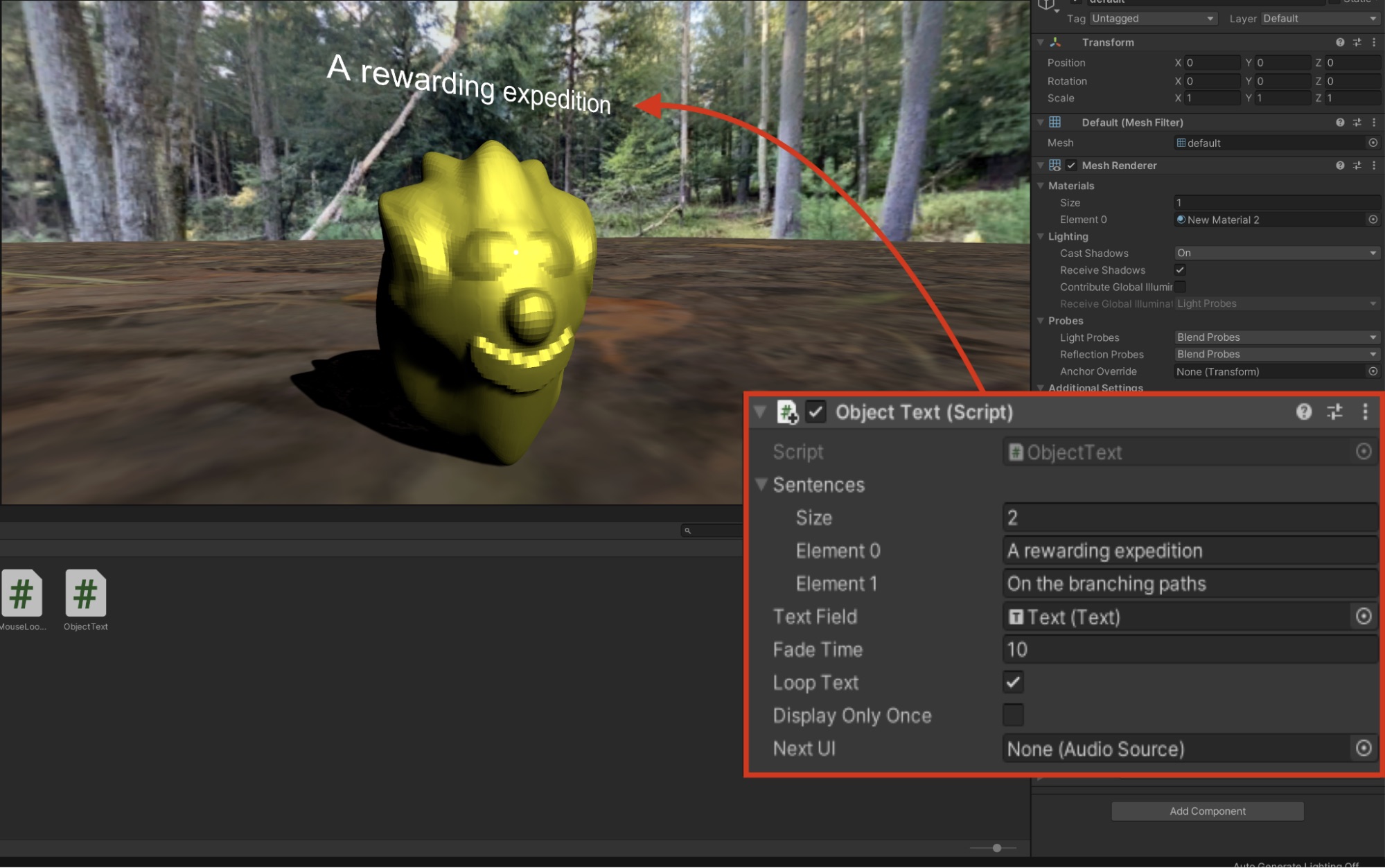 Example Uses of the Toolkit
The Raisin Truck Makes Raisins
A collaboratively produced interactive 3D environment that uses collage, spatial orientation/disorientation and organized chaos to reflect on the experience of caring for young children during pandemic and lockdown.
More info here
Student Work
Screenshots of interactive 3D environments created by students in the New Media Art Program at Baruch College, CUNY, using the Community Game Development Toolkit.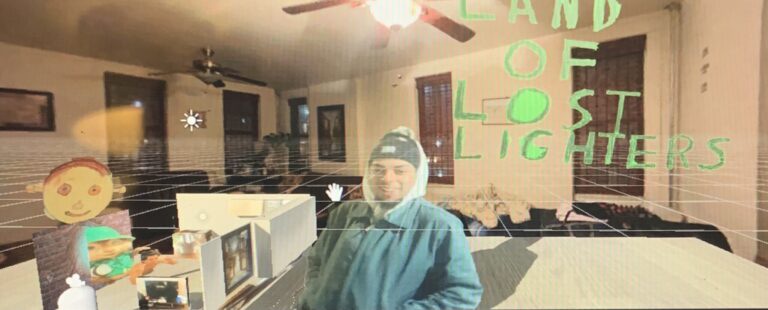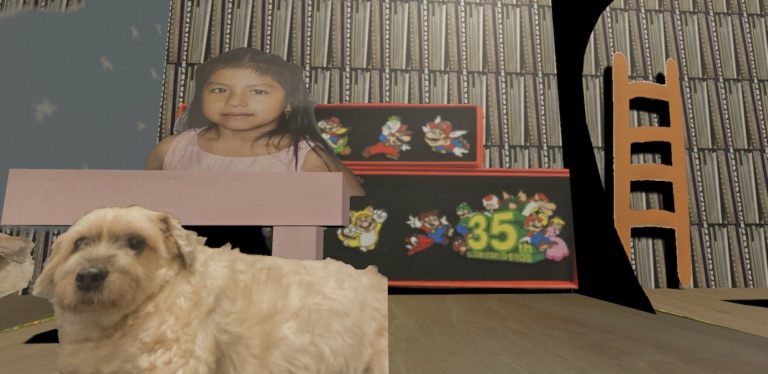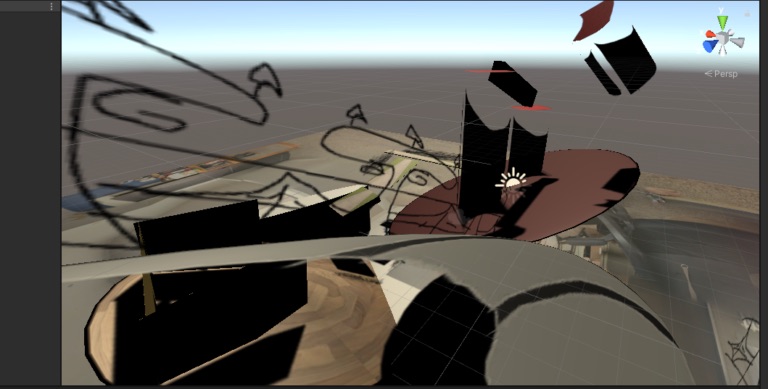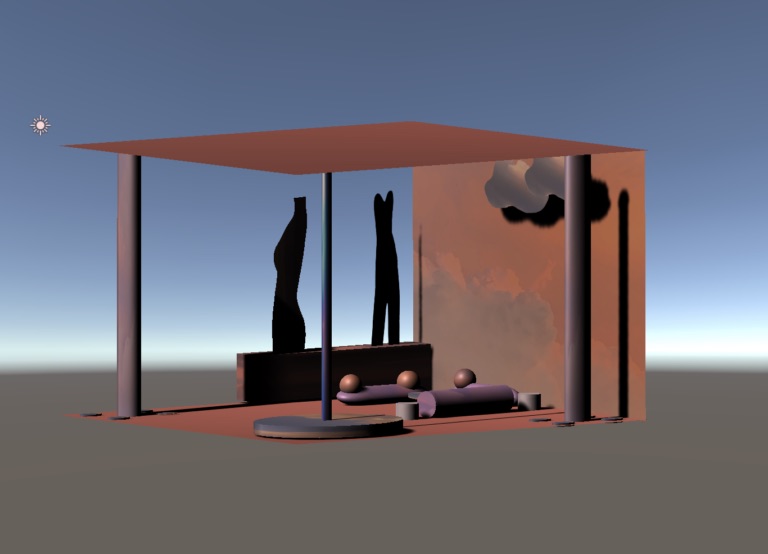 Current status of the toolkit
The toolkit has been presented at a number of conferences including iDMAa: Broken Media (2021), the Show Don't Tell Symposium at Culture Push (2021) and the New Media Caucus Showcase at the College Art Association Conference (2021)
I'm currenlly looking for collaborators and support to help develop toolkit functionality, document the toolkit and contribute to cirricula and learning matierals surrounding the toolkit.
Contact me at danielp73 at gmail dot com